Headteacher's Newsletter – Friday 4th November 2022 – Autumn 6
It has been an incredibly busy first week back after the half term break. Our new school improvement partner made a visit on Wednesday for the first time where he inspected the teaching of maths across the school. As a serving Ofsted inspector, it was very heartening to hear his praise of the quality of teaching he observed, but also of the way the children were challenged in their thinking and application of skills and knowledge. At this stage in the year it was a very positive visit. Thank you to everyone who supported last night's Firework Extravaganza. We didn't let the wet weather affect our spirits and judging by the looks on everyone's faces you certainly had a wonderful time. My thanks must go to Nick and Nadia once again and their small band of helpers who were amazing in serving as many of you as possible with hotdogs and teas and coffees. The staff were also brilliant and my thanks must also go to them too. As the half term progresses please keep abreast of future dates.
The word of the week is – HIBERNACLE (18th Century) – a retreat or refuge in which to sit out the winter and wait for sunnier days.
POEM OF THE WEEK –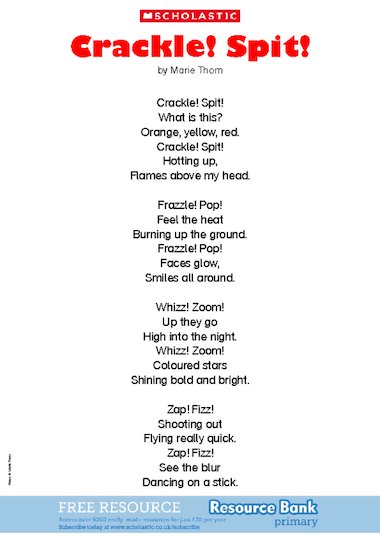 NURSERY OPPORTUNITY – As parents and carers,  you are aware that we are continuously looking for ways to improve the school and maximise the usage of our facilities. We would like to consider inviting a community based pre school to use our existing facilities in addition to continuing to provide our current nursery.  This will be of minimal disruption to the children however it will allow there to be onsite provision of child care from 18 months in a registered pre school setting. Please contact Carly Davis School Business Manager on 0208 387 3000 if you have any questions.
PICTURES FROM THE FIREWORK EXTRAVAGANZA –

WD6 FOOD SUPPORT – The WD6 Food support is open on WEDNESDAY & FRIDAYS from 3:15pm – 4:30pm. Parkside families can have access from 3:15pm directly after school.
PLEASE MAKE EVERY EFFORT TO ATTEND
ATTENDANCE AND PUNCTUALITY – There were 12 children from 10 families who were late to school on 16 occasions this week. Please make every effort to be on time for school, the effect it has on your child can have a lasting impact on their rates of progress.
CLASS
WEEKLY ATTENDANCE
WEEKLY WASTE TARGET 
TARGET MET
Y/N
Reception Pine
89.7 %
2.0kgs
 2.9 kgs – N
1 Maple
 87.6 %
1.5kgs
  1.3 kgs – Y
2 Alder
97.8 %
1.5kgs
  1.6 kgs – N
2 Willow
98.1 %
1.5kgs
 o.900 kgs – Y
3 Birch
98.0 %
1.0kgs
 0.700  kgs – Y
4 Rowan
98.1 %
1.0kgs
 1.1 kgs  – N
4 Aspen
98.1 %
1.0kgs
0.400 kgs – Y
5 Cedar
91.8 %
2.0kgs
0.350 kgs – Y
6 Cherry
95.6 %
1.5kgs
0.400 kgs – Y
 Weekly Totals 
 94.3%
 13.0 kgs
9.650 kgs – Y
13.3 grammes per child
PARKSIDE FLYERS AND HOT CHOCOLATE WINNERS – Congratulations to Annabelle, Theodora, Ediz, Riley, Amelia, Anastasia, Reyansh, Desara and Eimantas who were given their wings this week for soaring high and making great progress. Keep this going children.
Congratulations to Iustin, Elisa, Eden, Alicja, Wiktoria, Karen, Zuhra, Naima and David who joined Mrs Taylor for a cup of hot chocolate on Friday to celebrate their efforts which were recognised by their teachers. Thank you children for upholding the standards we expect at our school.
SHARING OF LEARNING – It was lovely to welcome children from every year group to my office on Thursday afternoon where they shared with me their learning journey through the week. They spoke to me about the Islamic faith and what it meant personally to one particular child, why we have class rules, the importance of family, how to subtract single digit numbers, a long discussion about why  Stonehenge was a site of importance but more importantly how it was built, how to use a number line and the how to use intervals, the life cycle of a baby, letter writing and the mythical cycle. The children were very proud of their work and could tell me what they needed to do to improve. Thank you children!!
TUNES FOR THE WEEKEND –
https://www.youtube.com/watch?v=6ksESIWscHY
https://www.youtube.com/watch?v=YJVr9bCrC0w&list=RDwQmy0pbrGXY&index=11
https://www.youtube.com/watch?v=SyNt5zm3U_M
https://www.youtube.com/watch?v=ZcuMsZaisdo
HAVE A WONDERFUL FIREWORKS WEEKEND!!
https://parkside.herts.sch.uk/wp-content/uploads/2022/09/how_to_create_a_newsletter_t.webp
512
1024
Charles Soyka
https://parkside.herts.sch.uk/wp-content/uploads/2018/07/parkside-logo.png
Charles Soyka
2022-11-05 11:20:41
2022-11-05 11:20:41
Headteacher's Newsletter – Friday 4th November 2022 – Autumn 6