Headteacher's Newsletter – Friday 31st March 2023 – Spring 12
The clocks going forward an hour last weekend lifted spirits and the longer hours of daylight is always a sign that summer is just around the corner.  We arrive at the end of a relatively short term ready for our annual Easter break with the opportunity to relax and take the foot off the gas for a little while. Year 4 made a trip to the Science Museum yesterday and learnt about a range of different and exciting reasons why things happen. They were great ambassadors for our school and were very well behaved. Year 3's assembly on Wednesday morning was well attended and so to was the workshop. Thank you to everyone who attended. The ladies and gentlemen who run the WD6 Foodbank made sure that every child went home with an Easter Egg this afternoon. We send our sincere thanks to them and look forward to continuing working with them next term. Please remember that MONDAY 17th APRIL is an INSET DAY and school will be CLOSED to children on this day. Have a happy and peaceful Easter.
The word of the week is – PAVONISE – to strut around like a peacock.
POEM OF THE WEEK –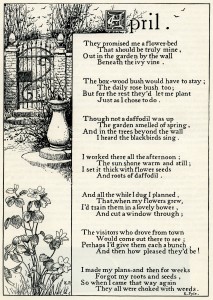 THIS WEEK'S EXAMPLES OF THE CHILDREN'S WORK –
WD6 FOOD SUPPORT – The WD6 Food support is open on WEDNESDAY & FRIDAYS from 3:15pm – 4:30pm. Parkside families can have access from 3:15pm directly after school.
PLEASE MAKE EVERY EFFORT TO ATTEND

ATTENDANCE AND PUNCTUALITY – There were over 20 children who came late to school this week on over 50 occasions. This is the largest number of registered lates we have had for a very very long time. Many children who come to school late are often from the same families. This has to improve in the summer term. Please make every effort to be on time for school, the effect it has on your child can have a lasting impact on their rates of progress.
CLASS
WEEKLY ATTENDANCE
WEEKLY WASTE TARGET 
TARGET MET
Y/N
Reception Pine
 95.1 %
2.0 kgs
   1.9 kgs – Y
1 Maple
 93.3 %
1.5 kgs
  1.2 kgs – Y
2 Alder
  97.8 %
1.5 kgs
  1.5 kgs – Y
2 Willow
 87.8 %
1.5 kgs
   1.0 kgs – Y
3 Birch
 97.8 %
1.0 kgs
   1.6  kgs – N
4 Rowan
 95.1 %
1.0 kgs
    0.55 kgs  – Y
4 Aspen
 95.1 %
1.0 kgs
    1.35 kgs – N
5 Cedar
  93.2 %
2.0kgs
   2.6 kgs – N
6 Cherry
 93.8 %
1.5 kgs
  1.0 kgs – Y
 Weekly Totals 
 94.1 %
 13.0 kgs
  12.701  kgs
16.8 grammes per child
WINDSOR HALL PRESCHOOL – The good folk of Windsor Pre School are holding an open morning on Monday 17th April to which you are invited if you have a child of pre school age. Details below.
TUNES FOR EASTER –
https://www.youtube.com/watch?v=EP_EbF3tBZc
https://www.youtube.com/watch?v=jptJrL-wZi4
https://www.youtube.com/watch?v=5oHb98olya8
https://www.youtube.com/watch?v=F5FmBml6ZiE
https://www.youtube.com/watch?v=PP552Lij2Qo
https://www.youtube.com/watch?v=48hlEtPs6Xw
HAVE A WONDERFUL EASTER HOLIDAY AND SEE YOU ALL AGAIN ON TUESDAY 18th APRIL
https://parkside.herts.sch.uk/wp-content/uploads/2022/09/how_to_create_a_newsletter_t.webp
512
1024
Charles Soyka
https://parkside.herts.sch.uk/wp-content/uploads/2018/07/parkside-logo.png
Charles Soyka
2023-03-31 13:01:37
2023-03-31 13:01:37
Headteacher's Newsletter – Friday 31st March 2023 – Spring 12