Headteacher's Newsletter Friday 25th March 2022 – Spring 11
It's been another very busy week at school and with one week left of the spring term our thoughts turn to next week's Easter celebrations. Children will be decorating eggs, making bonnets and designing posters as part of a number of activities they will all take part in but the highlight of the week will be the Easter Egg hunt which is scheduled to take place next Friday. More about this exciting event below. The children continue to be a delight and have worked incredibly hard once again this week. Our English adviser came to school on Tuesday and their overall assessment of the children's level of progress across the school was good. Gaps continue to close and levels of attainment are beginning to show that children are on track. Please don't forget that clock go forward this weekend on Sunday. Tickets continue to be sold for Marky Mark's Disco on Thursday 31st March. They can be bought on the playground after school everyday right up until the day of the event.
The word of the week is – RESPAIR – fresh hope; a recovery from despair.
POEM / THOUGHT FOR THE WEEK –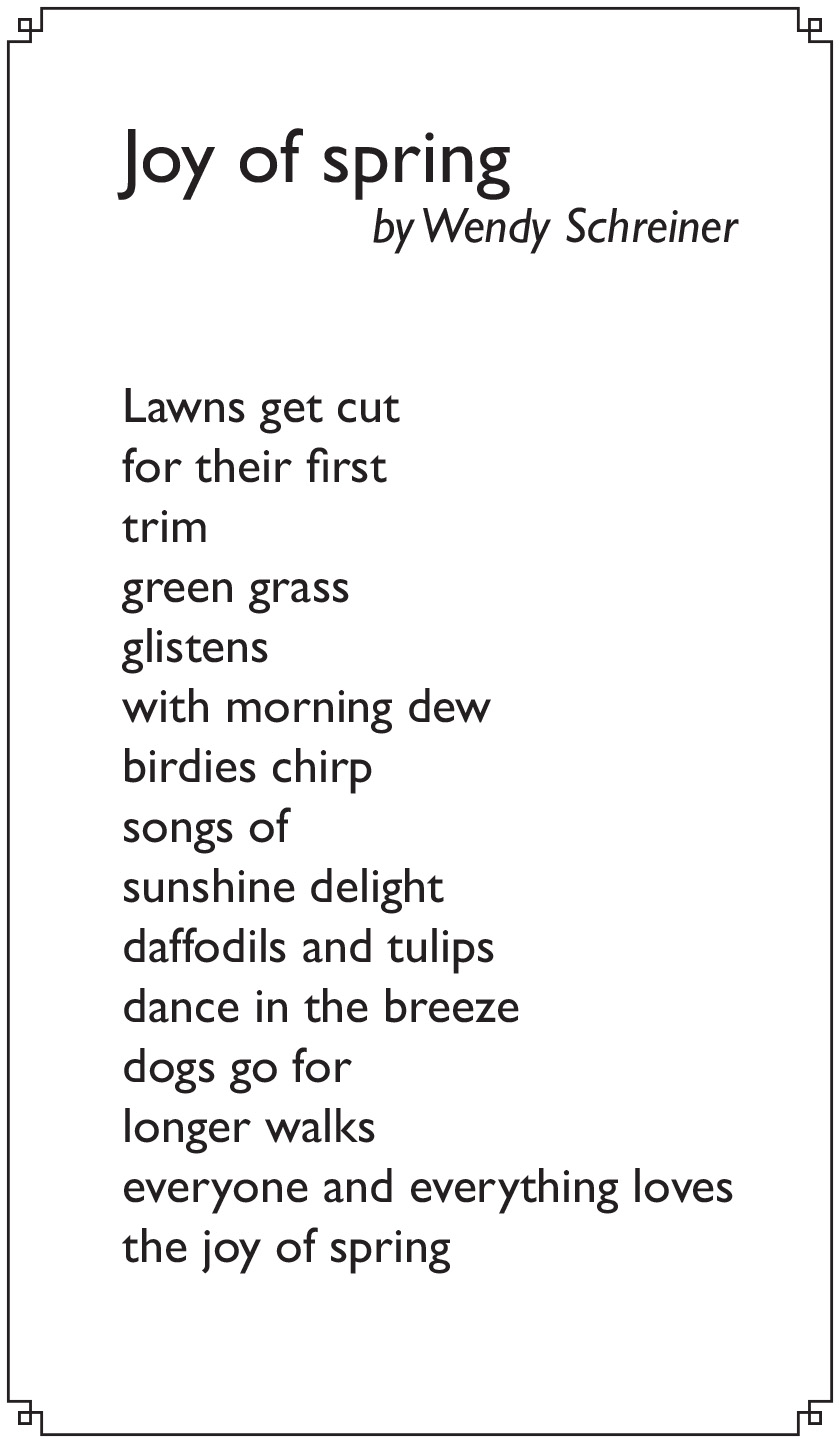 THIS WEEK'S EXAMPLES OF THE CHILDREN'S WORK –
EASTER EGG HUNT FRIDAY 1st APRIL  – Everyone will take part in an Easter egg hunt on the last day of term as part of our Easter celebrations. Children will forage around the grounds to look for tokens which they will exchange for an egg. Every child who takes part will receive an egg. The children are very excited about the event and we look forward to giving them their eggs.
PARENTS AND FRIENDS ASSOCIATION – The next meeting of the PFA will be held on Thursday 21st April after school in the Year 2 classroom. It is very important that as many of you who are available attend. We will discuss the arrangements for  the Summer Fayre, the open air cinema event and our last disco of the year before thinking about next year's plans. Please make every effort to attend.
MARKY MARK'S DISCO – THURSDAY 31st MARCH – ALL TICKETS £3
RECEPTION CLASS, YRS 1&2 3:30pm – 4:30pm
YEARS 3 – 6  – 5:00pm – 6:00pm
TICKETS ON SALE AFTER SCHOOL RIGHT UP UNTIL THE NIGHT OF THE EVENT. IF YOU ARE AVAILABLE TO LEND A HAND PLEASE SPEAK TO NADIA OR NICK ONCE YOU HAVE BOUGHT YOUR TICKET. 
WD6 FOOD SUPPORT – The WD6 Food support is open on WEDNESDAY & FRIDAYS from 3:15pm – 4:30pm. Parkside families can have access from 3:15pm directly after school.
PLEASE MAKE EVERY EFFORT TO ATTEND
ATTENDANCE & PUNCTUALITY –  There were 16 children from 12 families who came late to school last week on 26 occasions. Unfortunately it is only a small number of families who make up this number, so if you are struggling with your morning routine please contact the school.
A PERSON WHO IS PUNCTUAL WILL ALWAYS KNOW HOW TO RESPECT THEIR TIME AND OTHERS AS WELL.
Rec Pine – 91.8%
1 Lime –  94.2%
1 Maple – 92.4%
2 Willow – 95.6%
3 Birch – 89.5%
3 Elm – 98.8%
4 Aspen – 92.4%
5 Cedar – 91.7%
6 Cherry – 96.3%
6 Oak – 96.5%
WEEKLY AVERAGE – 94%
YEARLY AVERAGE – 93%
NATIONAL AVERAGE – 96.0%
HOT CHOCOLATE AND PARKSIDE FLYERS – Congratulations to Ellie, Lyla, Maya, Skyla, Iulia, Angela, Marvin, Harvey and Jayden who joined Mr Soyka for a cup of hot chocolate on Friday afternoon in recognition of their hard work and the excellent efforts they had demonstrated through the week.
Well done to this week's Parkside Flyers – Gabriel, Nitay, Patrick, Leo, Lara, Thalir, William, Harry and Niti. Your hard work, excellent attitude and progress have helped you to soar. Please continue to work hard through the rest of the year.
FOOD WASTE  – This week there was 14.250 kgs of waste which equated to 18.6 grammes per child. THIS WAS THE LEAST AMOUNT OF FOOD WE HAVE EVER DISCARDED AND WAS A BRILLIANT EFFORT!! THANK YOU CHILDREN.  NEXT WEEK'S TARGET FOR THE WHOLE SCHOOL WILL BE 20kgs.
TUNES FOR THE WEEKEND –
https://www.youtube.com/watch?v=bIWdn4ePI7g
https://www.youtube.com/watch?v=e1IIZIXDyW8
https://www.youtube.com/watch?v=f7X2j41Qbg4
https://www.youtube.com/watch?v=AGaEceD74RU
HAPPY MOTHER'S DAY TO ALL OF OUR MOTHERS, GRANDMOTHERS, AUNTS AND SISTERS AND PLEASE REMEMBER TO PUT YOUR CLOCKS FORWARD AN HOUR ON SUNDAY MORNING!!
https://parkside.herts.sch.uk/wp-content/uploads/2021/09/newsletter-icon.jpg
717
1000
Charles Soyka
https://parkside.herts.sch.uk/wp-content/uploads/2018/07/parkside-logo.png
Charles Soyka
2022-03-25 14:18:36
2022-03-25 14:18:36
Headteacher's Newsletter Friday 25th March 2022 – Spring 11