Headteacher's Newsletter – Friday 25th February 2022 – Spring 7
THERE HAS BEEN ONE REPORTED CASE OF CORONAVIRUS REPORTED AT PARKSIDE COMMUNITY PRIMARY SCHOOL THIS WEEK.
After days of atrocious weather which included two storms the sun has made a very late appearance towards the end of the week. I hope that you all managed to survive the awful weather unscathed. Our thoughts this week turn to the events in Ukraine and the terrible situation hundreds of thousands of citzens find themselves in. Hopefully the dispute will be resolved peacefully and life can return to normal as soon as possible. You may have noticed that I have been absent from school this week. After nearly two years taking every precaution I tested positive for COVID- 19 last week. I am pleased to inform you that I have made a good recovery and all things being equal I will be back on Monday. I have been in regular contact with Mrs Taylor and the Office staff through the week and it sounds as if things have been relatively quiet. We look forward to welcoming Kelly Moss our Hertfordshire Improvement Partner in a few weeks' time for our annual Spring visit so that we can share with her the excellent standards and progress the children and staff have made since we returned in January. I look forward to seeing you all again on Monday.
The word of the week is – EMPLEOMANIA – the desire to hold office or wield power, whatever the cost.
POEM OF THE WEEK –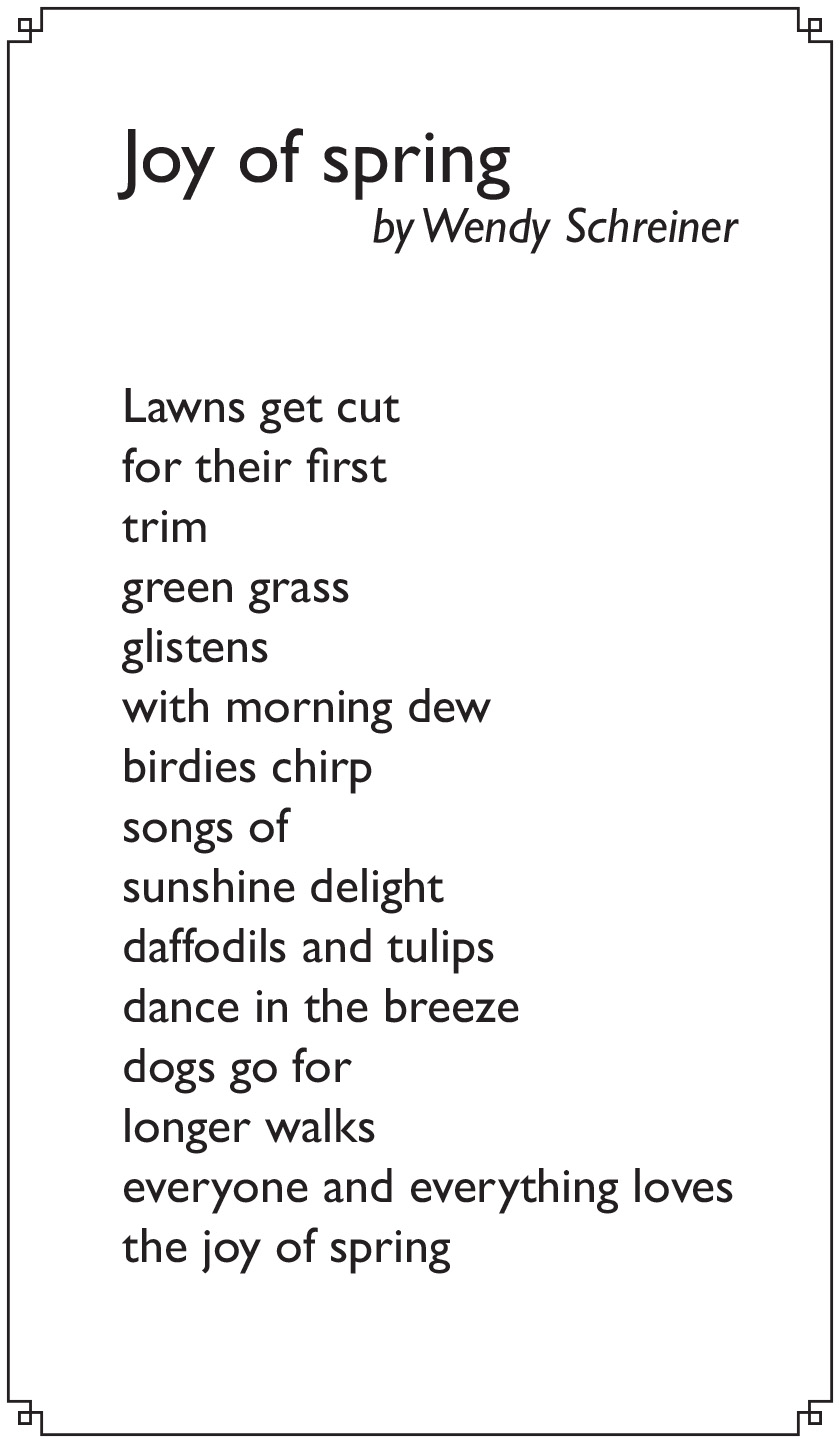 RESCHEDULED DATE – The painting of the KS2 fence will now take place on SATURDAY 5th MARCH FROM 10am. Bacon rolls and cups of tea and coffee will be served if you turn up with a paint brush!
WD6 FOOD SUPPORT – The WD6 Food support is open on WEDNESDAY & FRIDAYS from 3:45pm – 5:15pm. Parkside families can have access from 3:15pm directly after school.
PLEASE MAKE EVERY EFFORT TO ATTEND
HOT CHOCOLATE AND PARKSIDE FLYERS – Congratulations to Denis, Ava, Tada, Reyansh, Skye and Antoni  who will join Mr Soyka for a cup of hot chocolate on Monday afternoon in recognition of their hard work and the excellent efforts they had demonstrated through the week.
Well done to this week's Parkside Flyers – Roy, Mino, Bobby, Karen, Halle, Rayan and Olivia .  Your determination, excellent attitude and hard work have helped you to take flight this week. Keep this going please all year.
EASY FUNDRAISING – The members of the Parents and Friends Association have set up an easy fundraising page which you can access every time you shop on line. Please click the link for further details about how you can raise money for the school.  https://www.easyfundraising.org.uk/causes/pfaparkside/
ATTENDANCE & PUNCTUALITY –  There were 20 children from 16 families who came late to school last week on 24 occasions. Please make every effort to reduce this number after half term it is so important.
Being punctual not only makes you dependable but also helps you to build your confidence.
Rec Pine – 92.8%
1 Lime –  93.7%
1 Maple – 89.4%
2 Willow – 94.8%
3 Birch – 98.8%
3 Elm – 93.2%
4 Aspen – 94.5%
5 Cedar – 100%
6 Cherry – 85.6%
6 Oak – 93.4%
WEEKLY AVERAGE – 93.3%
YEARLY AVERAGE – 93%
NATIONAL AVERAGE – 96.0%
FOOD WASTE  – This week there was 53.6 kgs of waste which equated to 68.9 grammes per child. EVEN THOUGH IT WAS A LOT LESS THAN LAST WEEK THIS IS STILL TOO MUCH. We have given great thought to setting a new menu which should help to reduce the school's waste over the coming weeks. We have also taken stock of two new compost bins which will not only encourage the children to develop their gardening skills but will also reduce the amount of waste.
TUNES FOR THE WEEKEND –
https://www.youtube.com/watch?v=326Sk_-K3TM
https://www.youtube.com/watch?v=dHl8lTcgjG8
https://www.youtube.com/watch?v=MVtKstRZ5vQ
https://www.youtube.com/watch?v=J99IGivUnG4
HAVE A LOVELY WEEKEND!
https://parkside.herts.sch.uk/wp-content/uploads/2021/09/newsletter-icon.jpg
717
1000
Charles Soyka
https://parkside.herts.sch.uk/wp-content/uploads/2018/07/parkside-logo.png
Charles Soyka
2022-02-25 18:14:24
2022-02-25 18:14:24
Headteacher's Newsletter – Friday 25th February 2022 – Spring 7