Headteacher's Newsletter – Friday 16th June 2023 – Summer 7
The warm weather continues to lifts everyone's spirits and we hope it continues right through to the last day of term. We had two visits from our school improvement partner this week and he was very, very, impressed with the way we continue to support the children with their learning but especially our special needs children. He observed the teaching in all year groups and met with a number of staff as part of his visits. We were heartened to hear just how well the school is doing. Thank you to everyone who attended our annual sports days. They were, as always, well attended and the children displayed great prowess in all that they did. Congratulations to the children from RED team. I must offer a sincere vote of thanks to the staff. They never stop continuing to inspire me in the way they embody the school's vision – NURTURING AND INSPIRING YOUNG MINDS TOWARDS A BRIGHT FUTURE.
The word of the week is – BLEAR-WITTED – entirely lacking in foresight and judgement.
POEM OF THE WEEK –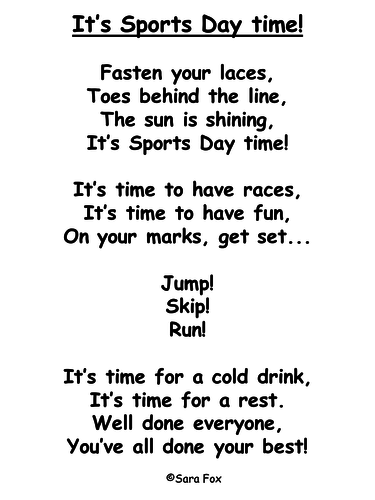 THIS WEEK'S EXAMPLES OF THE CHILDREN'S WORK PLUS SPORTS DAYS PHOTOS –
PHOTOS FROM KS 2 SPORTS DAY WILL BE UPLOADED ON TO THE SCHOOL WEBSITE ON THE LATEST NEWS AREA AND SOCIAL MEDIA PLATFORMS
WE WPOLOGISE TO THOSE PARENTS AND CARERS WHO CAME AT 3:00PM TO BE A PART OF THE PRESENTATION CEREMONY. DUE TO THE HOT WEATHER WE HAD TO BRING IT FORWARD BASED ON HEALTH AND SAFETY REASONS AND APOLOGISE FOR ANY INCONVENIENCE THIS MAY HAVE CAUSED.
 GOLD SPORTS AWARD – Mr Wanless writes:
We are delighted to announce that we have achieved the School Games Gold Mark Award for the 2022/23 academic year. We have managed to go from a Bronze to Gold in 12 months, which is an incredible achievement, we have done so much that we have bypassed the silver standard. The School Games Mark is a Government-led award scheme launched in 2012, facilitated by the Youth Sport Trust to reward schools for their commitment to the development of competition across their school and into the community, and we are delighted to have been recognised for our success.
Our sporting achievements this year include: Finishing first in the regional speed stacking, winning the year 3 cross country event, 3 children finished in the top 10 of the Year 5/6 competition and were subsequently invited to Hertfordshire trials along with winning year 4 Rapid Fire Cricket competition. Throughout this academic year we have also participated in football, tennis, athletics, cricket and swimming events
We are extremely proud of our pupils for their dedication to all aspects of school sport, as part of our application, we were asked to fulfil criteria in the areas of participation, competition, workforce and clubs, and we are pleased that the hard work of everyone at our school has been rewarded this year. A special thanks to Miss Bowers, Mr Honour and Mr Wanless for maintaining high levels of support and commitment to sport and active learning at Parkside.
WD6 FOOD SUPPORT – The WD6 Food support is open on WEDNESDAY & FRIDAYS from 3:15pm – 4:30pm. Parkside families can have access from 3:15pm directly after school.
PLEASE MAKE EVERY EFFORT TO ATTEND
THANK YOU TO THE STAFF AT THE WD6 FOODBANK WHO SUPPLIED THE WHOLE SCHOOL WITH ICE CREAMS THIS WEEK FOR SPORTS DAY. THEY WERE DELICIOUS.
ATTENDANCE AND PUNCTUALITY – There were 28 children from 22 families who came late to school this week on over 45 occasions. Many children who come to school late are often from the same families. This has to improve this summer term. Please make every effort to be on time for school, the effect it has on your child can have a lasting impact on their rates of progress.
CLASS
WEEKLY ATTENDANCE
WEEKLY WASTE TARGET 
TARGET MET
Y/N
Reception Pine
    90.7 %
2.0 kgs
    3.400 kgs – N
1 Maple
    97.0 %
1.5 kgs
    3.200  kgs – N
2 Alder
   100 %
1.5 kgs
    1.250 kgs – Y
2 Willow
   90.5 %
1.5 kgs
     1.850 kgs  – N
3 Birch
    95.6 %
1.0 kgs
    1.750 kgs – N
4 Rowan
   94.7 %
1.0 kgs
    1.250 kgs  – N
4 Aspen
   92.6 %
1.0 kgs
     0.950 kgs – Y
5 Cedar
   92.8 %
2.0kgs
    1.150 kgs – Y
6 Cherry
    95.1 %
1.5 kgs
   2.000 kgs – N
 Weekly Totals 
   94.3 %
 13.0 kgs
 16.800 kgs – N
22.7 grammes per child
TUNES FOR THE WEEKEND –
https://www.youtube.com/watch?v=A4-AsPh3QE4
https://www.youtube.com/watch?v=MqEnWHpz52Q
https://www.youtube.com/watch?v=nc6NF47ela0
HAVE A GREAT WEEKEND AND ENJOY THE GOOD WEATHER!!
https://parkside.herts.sch.uk/wp-content/uploads/2022/09/how_to_create_a_newsletter_t.webp
512
1024
Charles Soyka
https://parkside.herts.sch.uk/wp-content/uploads/2018/07/parkside-logo.png
Charles Soyka
2023-06-16 15:48:58
2023-06-16 15:48:58
Headteacher's Newsletter – Friday 16th June 2023 – Summer 7